Professional and elegant website worth your outstanding brand of preschool education

Responsive Web Page Design. Conform the mobile internet era. Satisfy all the mobile phone, pad and PC accessing requirements.
Dozens of professional layout design.
Support multilingual. Professional English translation and edit service.
Support video and audio playing. Support video playing on mobile phone. Support most mainstream browser of mobile phone.
Convenient publish and manage content by self.
Many home-school interaction methods. Provide better care service for children.
Advance cloud storage solution. Ensure the smooth accessing of website.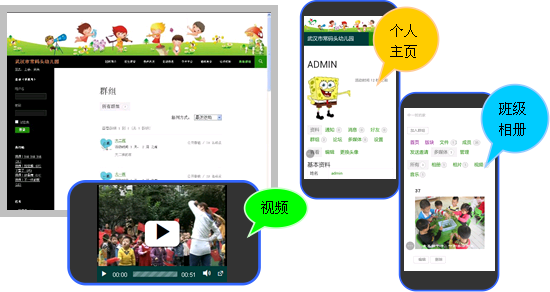 Online community connect home and school
Child's homepage display.
Group setup for every class. Class homepage, share document, video, image, music, blog, forum, discuss area etc.
Communicate everywhere and every time by mobile phone. Let the busy parents have no distance with kindergarten. Teacher guide and answer questions, provide better care service for children.
Online vote activities. Improve the 

involvement

of parents.
Social network. Friends, private message, follow etc.
Scalable module
Integrate with check in/out system. Kids' check in/out records display on personal homepage.
Child grow up profile. Semester assessment display on the private area of homepage.
Kindergarten websites group setup. Class blog. Class forum.
Online vote.
Resource of course.
Translate the website to English.
New requirements customize and R&D.
Flexible business model
Data is treasure. Childhood life on kindergarten, social network of teacher, classmate and parents is the best resource for graduation album.
Standard resolution  video publish on website. High resolution video burn to DVD, for child and parents to remember.
Add PS effect to activity photos. Make animation of album.
Advantage and convenient of mobile office

Teacher publish articles, guide the discuss, semester assess and prepare lesson on mobile phone.
Save investment. Reduce the purchase of PCs, save the space occupation.
Reduce the maintenance fees of PC. Reduce the manpower and time to maintain.
Better efficiency. Real work at anytime anywhere.
Office data save on website. Do not occupy storage of mobile phone.
Compare with QQ and Wechat

| | | | |
| --- | --- | --- | --- |
| | QQ group | Wechat public account | Mobile website |
| Domain name display brand and strength. | No | No | Yes |
| Not business platform. Zero advertisement. | No | No | Yes |
| Check by government. Give more confidence to customer. | No | Partial | Yes |
| Message push. Mobile phone operation. | Yes | Yes | Yes |
| Better message management, not stream chat. | No | No | Yes |
| New requirement customize and R&D | No | No | Yes |